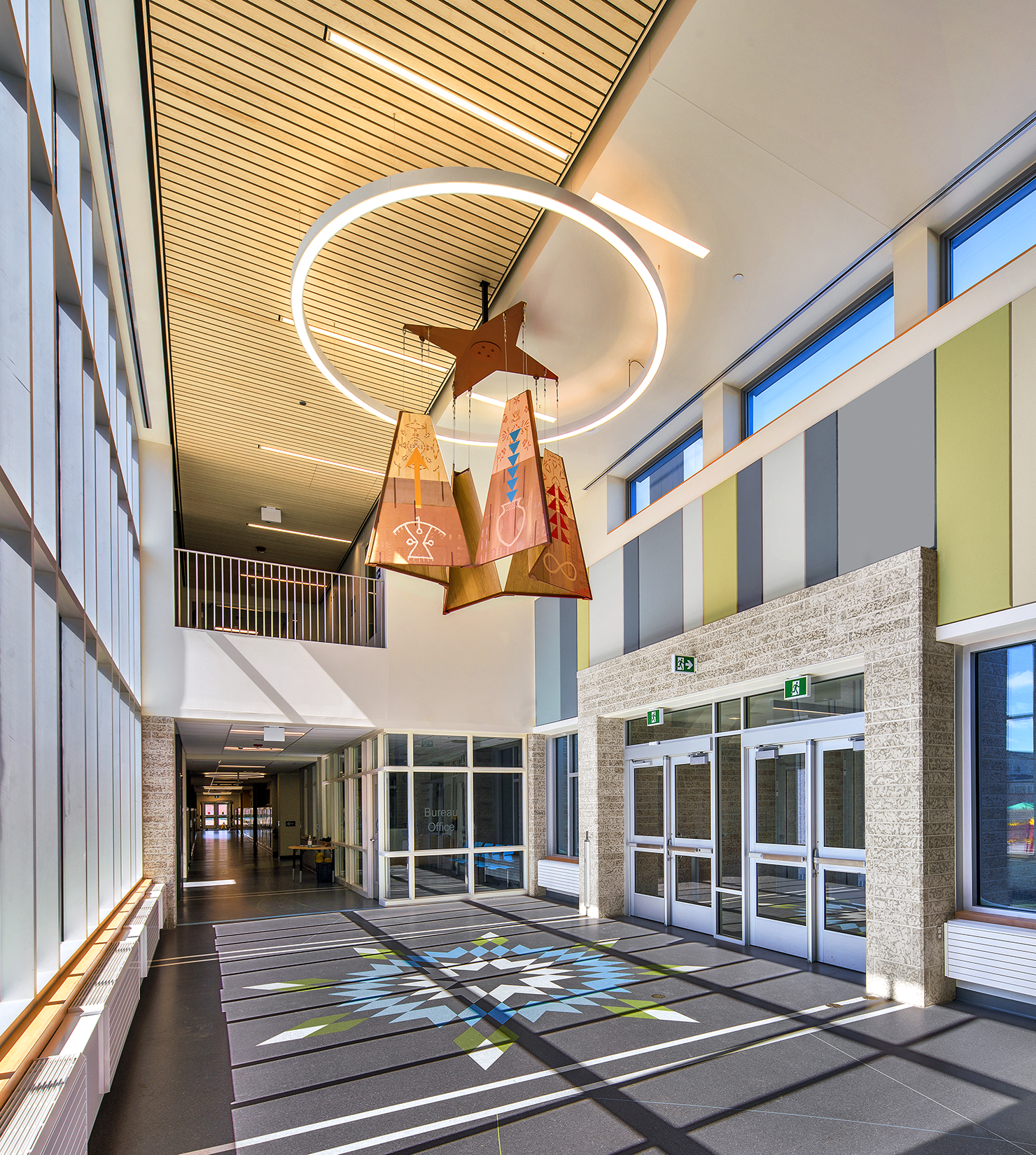 École Waterford Springs School
Jefferson Street, Winnipeg, MB
École Waterford Springs School was driven by a provincial mandate to provide new educational facilities swiftly and effectively. It was the first new school to open in the Winnipeg School Division in three decades and responded to the pressing need for educational, recreational, and childcare resources in one of the fastest-growing neighborhoods in the region.
The architectural layout of the building revolves around two distinctive blocks connected by a spacious two-story Student Commons area. The east block, spanning one story, houses major public and specialized education spaces, including the gym, multipurpose room (MPR), and library. The school was initially designed to enroll 600 students but has the capacity to accommodate up to 800. The design of the school incorporates elements intended to promote awareness of Indigenous culture, reflecting the project's commitment to educating students about the history, culture, and contributions of First Nations people. The project was awarded LEED Silver Certification in October 2022.
The new building construction utilized concrete grade beams on concrete piles, a combination of both hollow core and structural concrete slab construction for the floor composition, and a steel framed roof system. The building superstructure consists of steel frame, with either infill concrete block or steel stud walls. The lower exterior finish is a combination of Tyndall stone and brick masonry veneer, while the upper exterior finish consists of prefinished steel wall cladding. The site has a new asphalt approach, bus loop and parking areas complete with concrete sidewalk and curbing and a separate drop off and entry for the daycare. Hardscaping and softscaping also formed part of the sitework to accommodate active play areas and a soccer field.
Contract Value
$23,000,000