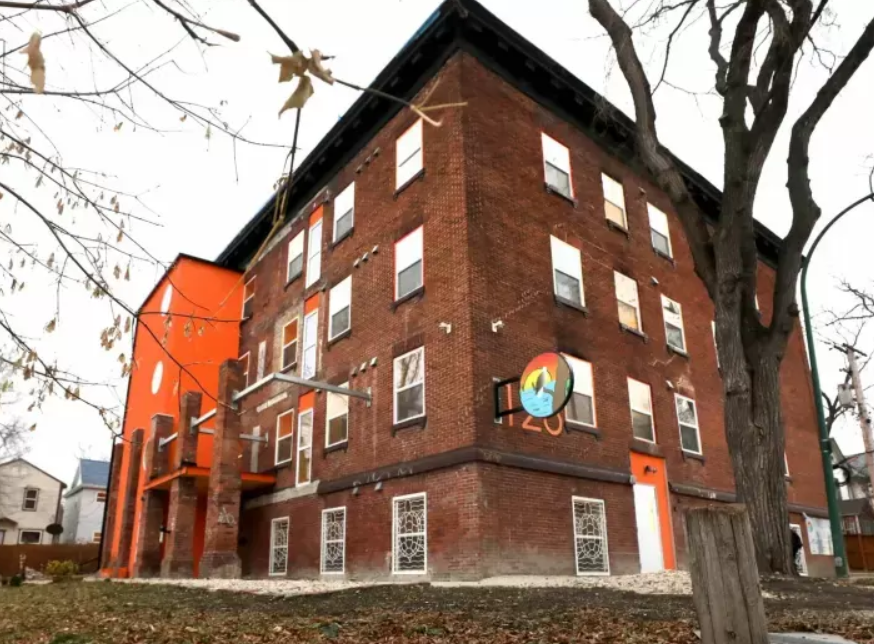 Nenookaasiins Rapid Housing and Resource Centre
126 Alfred Avenue, Winnipeg, MB
Shawenim Abinoojii Inc. (SAI) is an Indigenous-led, not-for profit service organization. They purchased the derelict Noble Court building on Alfred Street with the vision of creating a place of protection, comfort, and support for Indigenous youth and young adults transitioning out of child and family services– both as a place to live and get access to resources.
Named Nenookaasiins – meaning "Little Hummingbird" – the project addressed an urgent need for affordable housing in the city and support for Indigenous young people. The building suffered serious fire damage in 2016 and was forgotten for several years. After obtaining funding through the CMHC Rapid Housing Initiative, SAI worked closely with Bockstael and BridgmanCollaborative Architecture to develop a renovation program that met the budgetary constraints while maximizing comfort and ability to deliver services.
The upper three floors feature 18 residential units, and the lower level features a circular room for cultural activities, and a hub for life skills and employment programs. Significant repairs and upgrades were carried out to the heritage grade masonry building and surrounding site that will ensure its long-term stability and the safety of its residents. The window screens on the first floor feature the image of a turtle. In the morning sun, the shadow of the turtle marks the passage of time.
Industry
Multi-Family Residential
Social Infrastructure
Consultant
BridgmanCollaborative Architecture